How to Schedule an Open House Tour Create an Open House or one-off tour for families, separate from the standard tour settings. Jessica Eggert
While your standard tour settings allow families to schedule more personalized tours of your program based on your normal availability, sometimes you'll want to schedule one-off tours for a specific date, like an open house.
Now you can create an Open House through your Tour Manager that families can schedule from your Enrollment Page.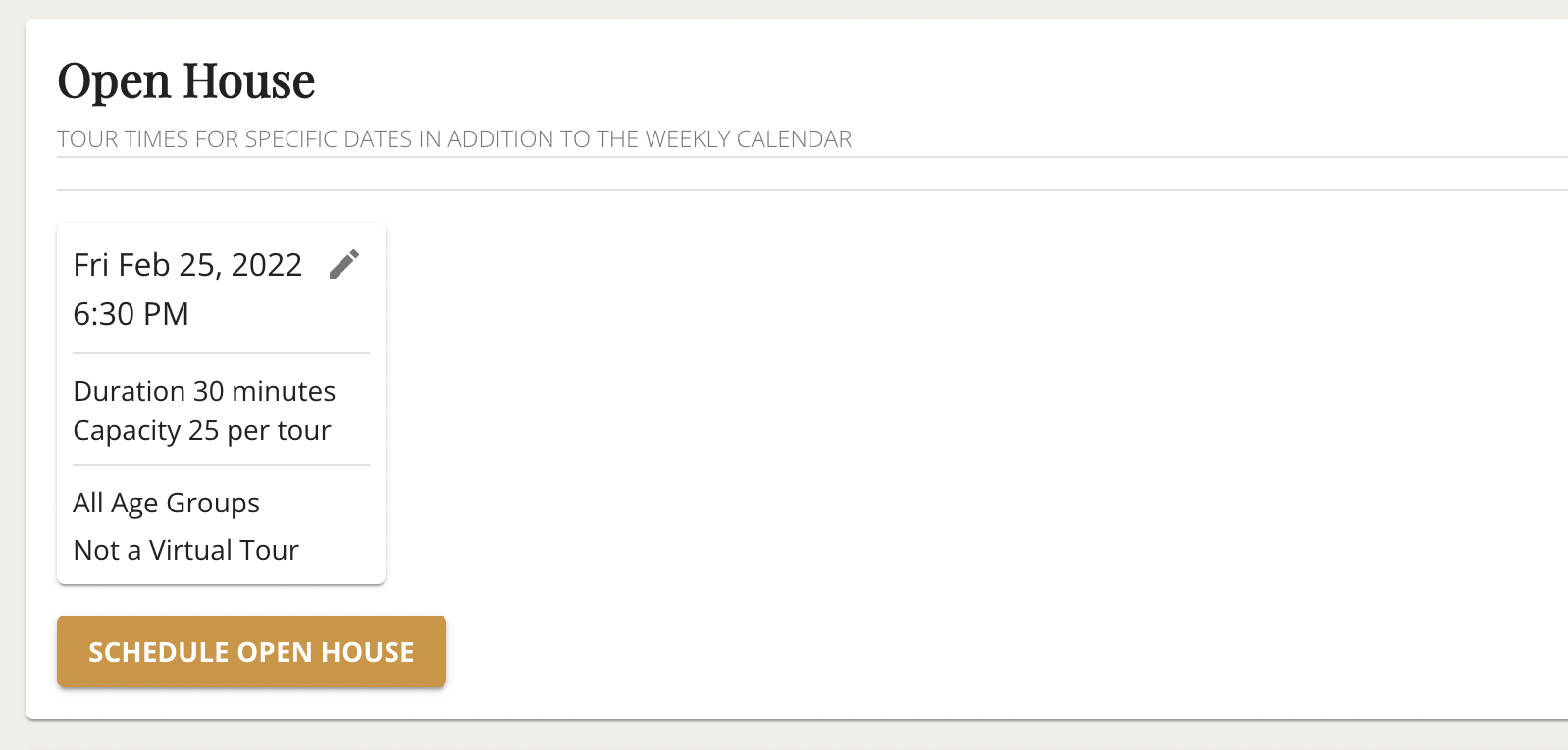 PLEASE NOTE: This feature is in its earliest stages of development and we'll be enhancing it over the coming weeks. If you have questions, concerns, or suggestions please reach out to us at enrollment@legup.care.
How to Schedule an Open House
Click on Tours in the left column.

Click on the "Tour Settings" tab.

Scroll down to the "Open House" section and click "Schedule Open House" button.

Set your open house tour duration, how many families are allowed to join the open house, whether this is a virtual tour or not, the time and date, and which age groups the Open House is for.

If you want an open house for more than one age group but not all of them, you'll need to create an Open House for each age group.

If this is a virtual tour, the virtual tour settings in your "Tour Policies" section will be shared.

Click "Save Changes".

How Families See Your Open House
Currently, families can hold a spot for your Open House by clicking on "Schedule Tour" on your Enrollment Page and finding the Open House tour.
They will be required to enter their family details, such as their name, email, and phone number, before scheduling the tour.
Tips for How to Share and Advertise an Open House
You'll want to make sure that families searching for care know about your Open House. For now, we suggest adding an announcement to your website and to your Enrollment Page.

Suggested Messaging:

OPEN HOUSE ON MONDAY, AUGUST 16TH AT 5:00PM!

Join us for an Open House of our program where you'll get to visit our classrooms, meet our talented teachers and the administrative team, and see what your child will learn while at ABC Center.

To schedule an Open House, please click on the "Schedule a Tour" button on our Enrollment Page (link here), enter your details, and then search for the Open House on the calendar. You will find a 6:30 pm slot on February 25th.
We are limiting our Open House to 25 families currently. Please bring your face masks. You will be also be asked to remove your shoes before entering a classroom, so please wear or bring socks.
Have any questions? Reach out to us at 555-555-5555.
This is the early stage of this feature. Have suggestions on how to make it better for you or your families? Send us an email at enrollment@legup.care!
Did this answer your question?